We have received word last night from several Irish Whiskey Distilleries and Whiskey Tourism Providers in Ireland, that they are closing their distillery tours and whiskey tasting events to visitors with effect from this morning (13 March 2020) because of the ongoing Corona Virus situation.
The initial distillery closures will be until 29 March 20, however this may be extended; depending on how the situation in Ireland evolves over coming weeks.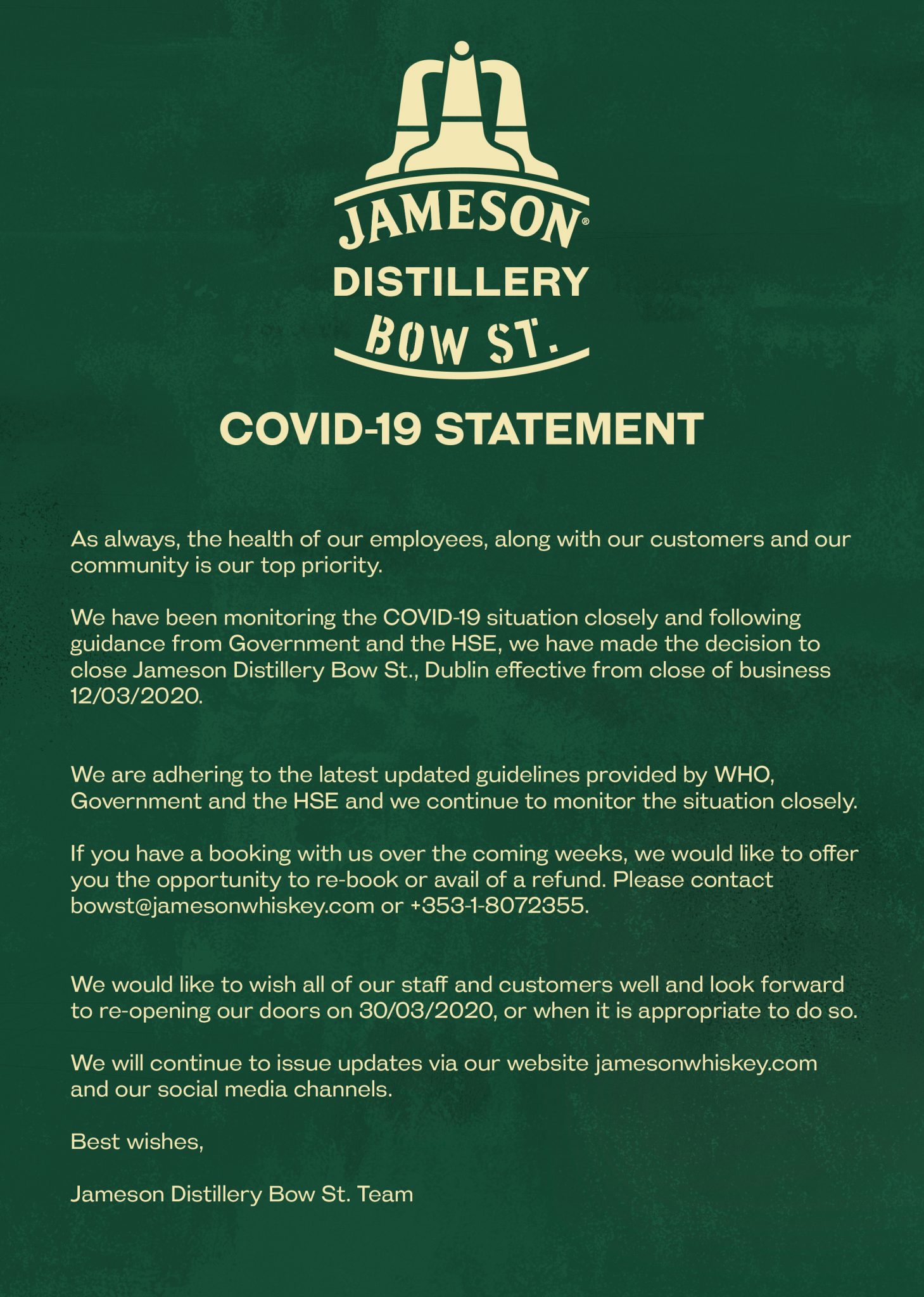 Visitors are advised to check with the respective distilleries's websites and social media accounts for further updates and details of cancellation refunds, re-bookings etc.
This action is in line with the latest Irish Government issued advice on Corona Virus precautions for public and social gatherings as Ireland enters the "Delay" phase of the anti virus campaign.
Here at Irish Whiskey .Com and The Irish Whiskey Trail, we would like to commend the Irish Whiskey Distilleries and Brands involved in these voluntary closures for their early, decisve and public spirited actions.
The Irish Whiskey Distillery Tours closing that we are so far aware of include.
The Jameson Visitor Experience, Bow Street Dublin
The Jameson Visitor Experience Midleton Distillery, Co. Cork
Teeling Whiskey Distillery, Dublin
Dublin Liberties Distillery, Dublin
Pearse Lyons Distillery, Dublin
Roe & Co Distillery, Dublin
Slane Whiskey Distillery, Co. Meath
Royal Oak Distillery, Co. Carlow.
The Irish Whiskey Museum, Dublin
We will add to this list as we become aware of updates. Contact us via the website contact form or via our social media channels if you would like us to add your distillery or visitor outlet to this update list.